Running shoes for flat feet need to offer specific features to offset or counter the effect of your foot shape on your biomechanics and loading.
Flat feet refers to the shape of the foot, more specifically the arch of the foot, when someone is standing up. It's also referred to as over-pronating but those terms are actually different. "Flat feet" is the shape of the foot when you're standing still, but "over-pronating" refers to the movement of the arch when you land.
Firstly, a bit of background on flat feet. They are not a curse and they don't limit your athletic potential, so don't believe the hype and rumours.
Flat feet are slightly less responsive in certain conditions (such as on indoor surfaces like basketball and indoor soccer) but they're less prone to injury. That's due to the foot having more movement to absorb shock and impact loading as you land.
Second, it's what the foot does on landing that matters, not the shape of the foot. Even if your foot looks flat when you stand still, it can still perform perfectly well during running and sport as the muscles will pull it into shape for optimal performance.

Last point is the role of the shoes. Running shoes for flat feet can offer various benefits but you may not need all of them. And your needs can change over time, so it's worth reconsidering your shoe selection each year or two.
As we mentioned in the second point, the muscles will support the foot into a better position on landing. But muscles get fatigued over time, which leaves the foot exposed to abnormal forces and injury.
A good running shoe for flat feet will offer assistance to the muscles so they can maintain a good position for longer. You won't fall apart without them but you can run longer and more efficiently with them.
As we mentioned in the third point, your needs can change over time as your muscles become more effective or as your running distances change. Move from 10k races to marathons and you'll need more support to help your muscles last the distance.
Need expert advice to get the perfect shoe?
We've combined the expertise of a Sports Physiotherapist with a running coach to bring you accurate advice, for FREE!
This app, on Android and ios, offers expert advice on the perfect running shoes for you and your niggles.
The app can also diagnose injury and suggest running sessions that won't flare up any current niggles.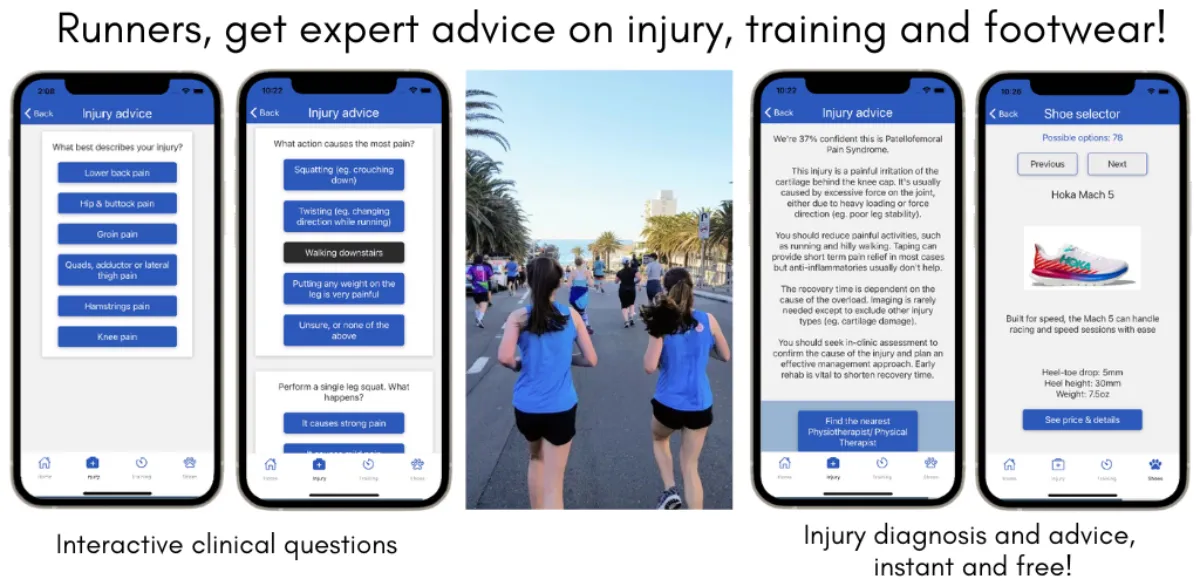 ---
Features of running shoes for flat feet
Support
Support in a running shoes isn't what most runners think it is – it doesn't hold the arch up or "stop" the foot collapsing.
Support offers a firmer material under the arch so that when your arch lowers, it's met with more resistance at the lowest point of the movement. It's helpful but it's very different to the job of medical orthotics, whether they're custom made (hard orthotics) or off-the-shelf (soft orthotics).
Unlike support, orthotics sit up under the arch and begin to support it from the moment the foot lands. This is far more effective for significant over-pronators (rather than a support running shoe which will only support the arch after it has lowered) but again, remember that flat feet and over-pronators are not the same thing.
Heel-toe offset
This is the angle of the shoe – it's the difference in height from the heel to the toe. So a 6mm shoe means that the heel is 6mm higher than the toe, placing the foot in a slight downwards angle.
One of the issues we find with flat feet is that there is significant muscle tightness, particularly around the inside of the ankle.
A higher drop shoe, around 8-12mm, can reduce this muscle tightness so it's a desirable feature for running shoes for flat feet.
Shape
The shape, also known as the "last" of the shoe, is different for different brands and models. It's why runners often have a brand preference, as that brand makes the perfect shape for their foot.
For the ideal shape, you need to find your perfect match – there's no one-size-fits-all approach! So even if a shoe comes highly recommended, it's worth sticking with the brands you've worn and loved before.
[You can read more about running shoe specs and features here]
---
---
Running shoe options for flat feet
Asics Kayano
This popular shoe has been around forever. It provides a great amount of stability under the arch along with a comfortable feel.
That stability reduces the speed and amount of collapse of the arch during running, which is the biggest risk of injuries like Plantarfasciitis.
That feature, along with the fact that this model has been around since the dawn of time, puts the Asics Kayano in the top 3 shoes for any list of best running shoes for flat feet!
---
Saucony Guide
Another sturdy shoe, the Saucony Guide provides similar stability to the Kayano but fits better for narrower feet and foot shapes that tend to like Nike, Adidas and (obviously) Saucony.
Not as popular as the Kayano or the Bondi but Saucony is making huge in-roads with the Guide after some recent design updates.
---
Asics GT-2000
This classic running shoe provides moderate level stability with good cushioning.
Aside from being one of the best running shoes for flat feet, it's also one the most popular all-rounders on the market.
It's available in a wide fit (2E for men, D for women) and in a range of colours.
UK-based runners can find the 2000s here as well as last year's models on special.
Australian runners will find deals here with a range of colour and width options.
---
Brooks Adrenaline
The Adrenaline has undergone a makeover in recent years, and mostly for the better.
It's lighter, more comfortable and better fitting than previous models.
It's available in a wide fit (D for women, 2E for men).
It used to be towards the top of the list for supportive options in the best running shoes for flat feet but the recent design changes have shifted it towards a more cushioned approach.
If you loved the old Adrenalines for their support, you may be better off exploring the Mizuno Wave Inspire which has support and is also available in a wide fit.
For US buyers, head here for a huge range of regular and wide fit color options.
UK runners can find Inspires here with free delivery/returns.
Aussie buyers can see the best options in different widths here.
---
Salomon Speedcross
This solid shoe is perfect for rugged, mountainous conditions and provides a firm, well-fitted trail option.
That combination makes it one of the best running shoes for flat feet on trails and hugely popular throughout Europe, although it's a little less suited to other conditions around the world.
The grip is super aggressive, so you won't be able to use it on road without shredding the lugs off pretty quickly.
Don't be fooled by the waterproof Goretex lining though – it's only good for puddles that don't flow over the top of the shoe (about 8-10cm deep) so it's useless for most creek crossings. The Goretex model is also prone to overheating in hot weather conditions.
---
Mizuno Wave Inspire – another star performer on the list of best running shoes for flat feet. Firmer than the Asics 2000s but just as supportive.
If you're buying in Australia, these guys tend to have them on special for the current year's models and even bigger discounts off last year's models.
---
New Balance Fresh Foam 860 – a light shoe for effortless comfort. If you prefer the shape of Brooks or New Balance, this will fit nicely.
If you're buying in Australia, we have two contenders for the best price. Check out TAF and Sportitude to see who has the best specials on at the moment.
---
Mizuno Wave Rider
High heel-toe offset of 12mm, neutral/no support, high stack height of 36mm and smooth lug-type road grip. Also available in a wide fit.
Click here for local pricing in Australia.
---
Brooks Ghost
High heel-toe offset of 12mm, neutral/no support, high stack height of 36mm and smooth road grip. Also available in narrow and wide fit.
Click here for local pricing in Australia.